Electra Jane O'Mara, the STONEWALL Veterans' Association ("S.V.A.") Secretary, is shown proudly in front of the legendary Stonewall Club on Christopher Street in Greenwich Village, New York, with her longtime best friend, Stonewall vet and S.V.A. President Willson Henderson (center) along with their mutually close friend, fellow Stonewall vet and S.V.A. Treasurer Terri Van Dyke (who died less than eleven months prior to Electra).
[Photo by Liz J. Abzug]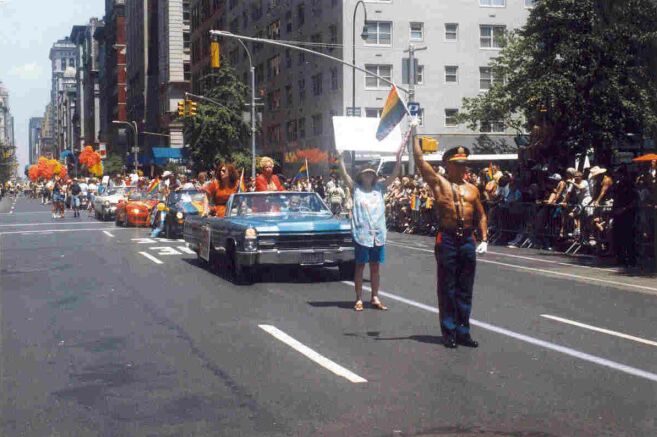 Electra (blue shorts) leading the 1999 parade with a 19

66

Cadillac convertible


{That's not the "Stonewall Car" nor the same year nor same shade of blue!}


[Photo by Willson Henderson]




---

Electra is proudly pictured in front of the "Stonewall Car"
[Photo via the Heritage of Pride's G.L.B.T. Pride Guide]
The location is on fabulous Fifth Avenue in midtown Manhattan in front of the landmark New York City Public Library at 42nd Street. Riding in the 1969 "Stonewall Car" is Toni Polita (standing left), Thomas R. Stevens (big guy crouching low), Cristina Hayworth (standing right) and Willson Henderson (blond hair blowing). Driving the powerful car is Amir "The Gore-illa" Qaharr. Not visible is Terri Van Dyke riding shotgun.
*
Electra J. O'Mara has proudly proclaimed many times over the years that "One of my biggest thrills in life is leading the annual Gay Pride Parade in New York City with the famous, blue classic 1969 convertible now known as the "Stonewall Car". Electra elaborated: "I knew the car before it was grabbed by the cops at the Stonewall Rebellion when it was simply known by sight usually on Christopher Street near The STONEWALL Club as an absolutely beautiful and very expensive car. It still is both!"
---
Campin' it up with Electra Jane on the Cherry Grove, LI Ferry
[Photo by Tony Azito]
---
Two Stonewall Vets: Gay Tony Azito and Fag-hag Electra O'Mara in a Cherry Grove scene
---
Electra on a Gay Throne at The Belvedere Hotel in Fire Island
[Photo by Tony Azito]
---
Is dramatic Electra O'Mara really a "Fag Hag"? Is that calmatic sea a blue?
[Photo by Anthony 'Tony' Azito]
---



=Some Electra O'Mara Bio provided by sister Joany=


Electra Jane O'Mara was born at a peaceful time at nearly the very end of one of the most crucial and unpeaceful decades in United States history: the 1940s. It was like she caught the caboose of a long, long, long train. That analogy would come to symbolize most of her later life. Little Miss O'Mara was born in Poly Clinic Hospital on the East Side of Manhattan, New York. (The hospital is no longer there.) At that time, her parents had the family home on East 66th Street in Manhattan. Throughout her adult life, she worked very hard to maintain a life and residence in "the capital of the world".

Electra establishment her professional acting career in 1966 -- coincidentally, the year that the original STONEWALL Bar & Dance Club opened! She was always an actress at heart..... After playing some small roles in small theatrical venues, Electra's first Broadway gig was in the 1967 play "The Freaking-Out of Stephanie Blake". It starred veteran Hollywood actress Jean Arthur (then 67 in 1967) of "Shane" movie fame. The play also featured newcomer William Devane, later of many films and the popular, long-running C.B.S. television series "Knots Landing". As a result of this play, rebelious Electra and straight-headed Bill became longtime friends. It was so much so that Bill came to know and help the entire O'Mara family, especially the receptive younger sister Joan. When the O'Mara father died, Bill and his wife Eugenia were at the Irish wake. The "Stephanie Blake" play's music and lyrics were by pop music songwriting sensation Jeff Barry, the other half of (Ellie) Greenwich/Barry compositions such as "Be My Baby", "Today I Met The Boy I'm Gonna Marry", "Da Doo Ron Ron" and "Chapel of Love". And guess who was girl groups music friends with Ellie? Electra!

The play "TFOOSB" also had an unprofessional, difficult to work with, nasty in attitude, little bit unknown player named James 'The Rat' Fouratt, who would later surface on the fringes of the "Stonewall Story". Only then, he would be simply known as "the Gay rat". Like everyone else, Electra loathed him. "He is a very nasty Gay man" declared Electra, "one of the nastiest ever". While Electra was a semi-regular at the theatrical STONEWALL Club with her Gay acting friends and colleagues for about three years, "the Gay rat" never set foot in the place. Electra was therefore the one to nail Fouratt that "The Gay rat was nowhere near the start of the Stonewall Rebellion. Truth be told, he was out of state in jail on another drug conviction. Electra was at the uprising the very first night (and the second and the third); she saw who was and who wasn't there!



---
=Electra & S.V.A. Biography=
By trade, Electra O'Mara was originally an actress, including co-starring in a Broadway show, "The Freaking Out of Stephanie Blake". The musical starred William Devane and was written by renowned songwriter Jeff Barry of Ellie Greenwich/Jeff Barry fame. They wrote enduring hit songs such as "Be My Baby", "Today I Met The Boy I'm Gonna Marry", 'Hanky Panky", "Baby I Love You", "Da Doo Ron Ron", "River Deep, Mountauin High", "Chapel Of Love" and "And Then He Kissed Me". Like millions of others, Electra loved all of those records! At the original very sociable STONEWALL Bar & Dance Club, Electra met many of whom would become her lifelong friends such as Willson Henderson, Tony Viera, Terri Van Dyke, Dario Modon, and Storme DeLarverie! For many years, Electra was the S.V.A. liaison with the non-profit AIDS resource organization Broadway Cares/Equity Fights AIDS ("BC/EFA"). Said incredibly helpful organization is headed by Tom A. Viola. Electra was always involved in the SVA's very theatrical, musical and fun-filled annual "Stonewall Showtyme". It was typically held at The Stonewall Cabaret. She sometimes officiated as the stage show emcee. In the last years of her life -- always connected to the entertainment world -- Electra worked effectively for the fund-raising division of the famous Philharmonic Hall in Manhattan, New York. For decades, Electra Jane O'Mara was an active and proud member of the Executive Committee of the STONEWALL Rebellion Veterans' Association!

---
=Electra's Transition=
Sunrise: September 13th, 1949
Manhattan, New York
Sunset: Wednesday, September 29th, 2004
Manhattan, New York
Age: 55 (barely... and looked much less)
Funeral: Saturday, October 9, 2004
Ridgewood, Queens, New York
---


5th October
2020

G.L.B.T. History Month!

*



=====

2020: 51st Anniversary of the NYC Stonewall Rebellion=====

[Friday night, June 27 ~through~ Thursday evening, July 3, 1969, Manhattan, New York City]