STONEWALL

Veterans'

Association


2018 S.V.A. Supporters

U.S. Congressmember Hakeem S. Jeffries

---
2018
Hakeem Jeffries 3rd Re-Election to Congress
*


[PLACE] re-election flyer here at asterisk (*)
---
2016


*

---
2015

Letter from Congressman Hakeem Jeffries to the S.V.A.


*






---
2014
Video Message from Congressman Hakeem Jeffries
www.YouTube.com/watch?v=EHLwsS687zQ
*
[PLACE] H.S.J. 2014 campaign flyer above at *
---
2012
Hakeem Jeffries for Congress

*

Brooklyn - 10th District
(alphabetically)
* Bedford-Stuyvesant
* Boerum Hill (parts)
* Brooklyn Heights (parts)
* Brownsville
* Canarsie
* Central Brooklyn
* Downtown Brooklyn
* East New York
* Flatbush (parts)
* Fort Greene (parts)
* Flatlands
* Ocean Hill
* Prospect Heights
* Prospect Park South
* South Slope
* Williamsburg (parts)
Question: How can one congressional district in New York City
have so many and such diverse communities in its district?
Answers: The 10th district is (1) shaped like a sideways "V";
(2) very large; and (3) the result of bizarre gerrymandering!
*
New York Observer Story: Hakeem became the Barack of Brooklyn:
www.Observer.com/2011/politics/how-Hakeem-became-Barack-Brooklyn
*
Hakeem S. Jeffries for Congress:
JeffriesForCongress
---
2011


Letter to S.V.A. from Assemblymember Jeffries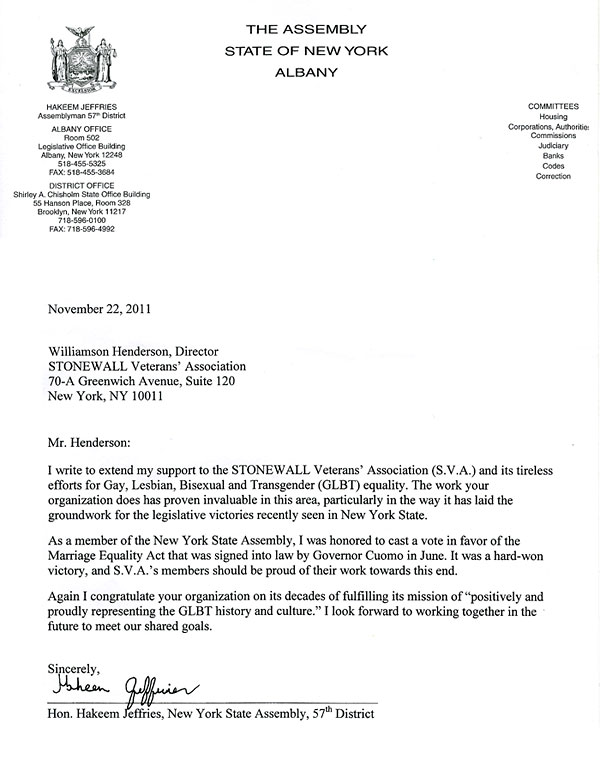 ---
Hakeem Jeffries letter to S.V.A. will be retrieved from archives!

filename:
Hakeem_Jeffries_2008
---



2006



N.Y.S. Assemblymember Hakeem S. Jeffries

Assemblyman Hakeem's new district includes:

Clinton Hill

*

Fort Greene

(not Roger) *

Prospect Heights

and parts of

Bedford-Stuyvesant *

Crown Heights

*

Park Slope

Visit the Assemblymember and the 57th District on-line at:

www.Assembly.State.NY.US/mem/Hakeem-Jeffries




*






Momentum Builds As Some Progressive Organizations

Endorse the Candidacy of

Hakeem Jeffries for

New York State Assembly in Brooklyn


Brooklyn, NY – June 22, 2006 – People for Jeffries, the campaign committee for Hakeem S. Jeffries, a progressive attorney and community activist from Brooklyn, today announced that three community organizations have endorsed their candidate for State Assembly.

The Progressive Association for Political Action (PAPA), the Working Families Party (of North Brooklyn) and the citywide PRIDE Democrats (Pride Rainbow Independent Democrats Etc.) have all thrown their support behind Jeffries, touting his longtime achievements both in the community and the courtroom as reasons to back the First Amendment attorney, who is running for the 57th district seat that is being vacated by the incumbent. PRIDE Dems has been the sole consistent endorser of Mr. Jeffries since his first Assembly run in 2000. It is the political arm of the STONEWALL Veterans' Association (of the 1969 Stonewall Rebellion) civil rights group.

"In order to strengthen the public school system, build affordable housing and promote neighborhood-friendly economic development, we must move to a political dynamic that is progressive, principled and public service-oriented", said Jeffries. "That is why the endorsement of these forward-thinking organizations is so important to the success of my campaign."

These endorsements come on the heels of winning the support of Communication Workers of America (CWA) District 1 and SEIU Local 32-BJ. Jeffries will also have the Working Families Party ballot line in the November general election.

Hakeem Jeffries was born at Fort Greene's Brooklyn Hospital. He received his Bachelor's Degree in political science from the State University of New York at Binghamton, a Master's Degree in public policy from Georgetown University in Virginia and graduated magna cum laude from New York University Law School. Jeffries grew up in Crown Heights and now lives with his wife, Kennisandra, and their two young sons, Jeremiah and Joshua, in Prospect Heights, Brooklyn.

The 57th Assembly District includes the neighborhoods of Fort Greene, Clinton Hill, Prospect Heights and some parts of Crown Heights and Bedford-Stuyvesant in Brooklyn.




---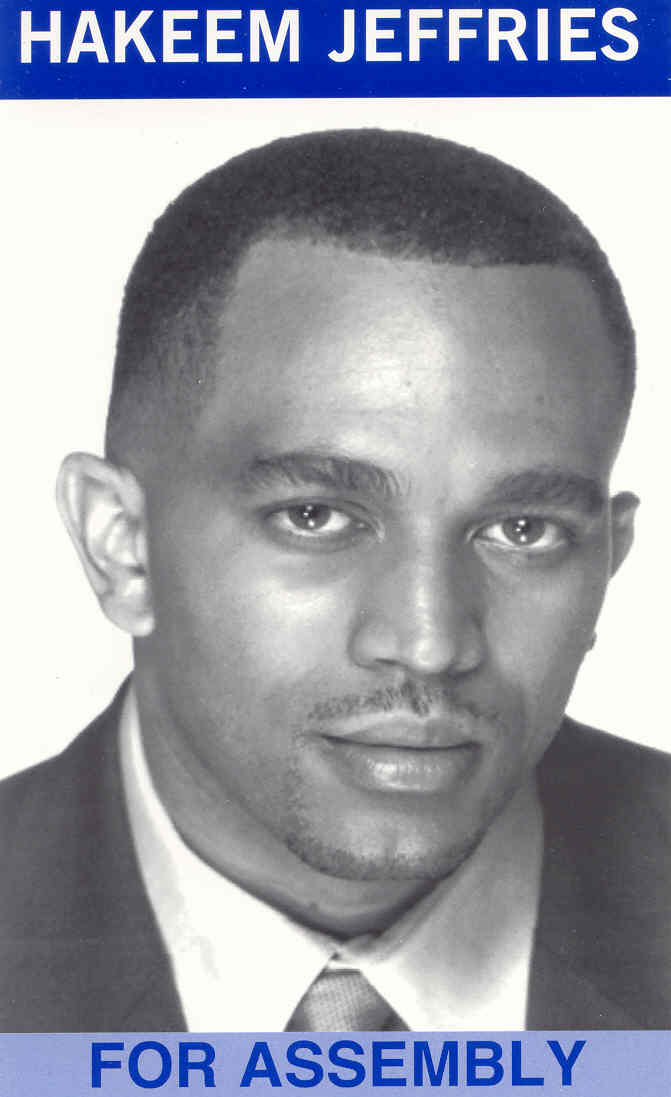 Hakeem Jeffries, candidate, 57th Assembly District

Vote for Hakeem in the Democrat Primary on Tue., Sep. 10, 2002
---
Letter from Hakeem Jeffries to the STONEWALL Vets' Assn.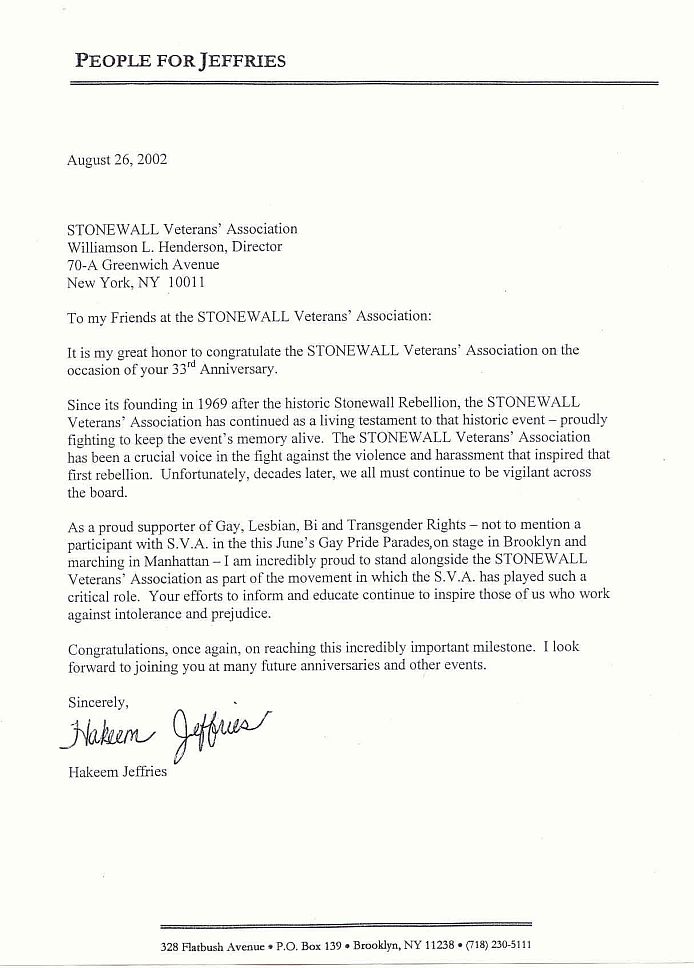 Hakeem's appreciative letter to the STONEWALL Veterans




---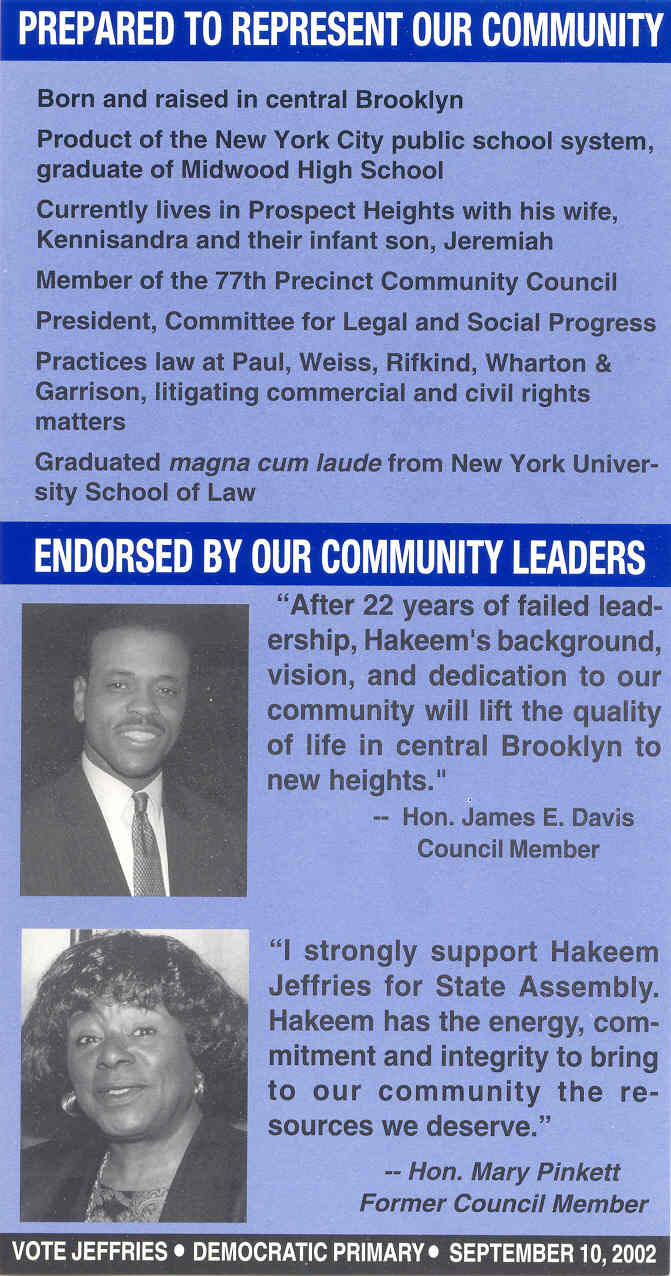 NYC Councilmember James E. "Jed" Davis endorses Hakeem!
Former Councilmember Mary Pinkett endorses Mr. Jeffries!!
*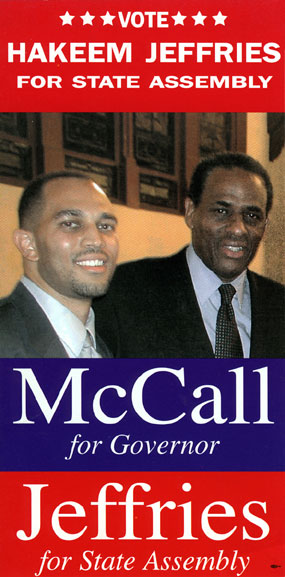 NYS Comptroller

Carl McCall

endorses Hakeem Jeffries!

*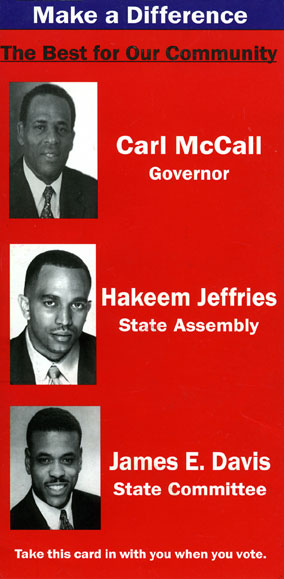 In the GLBT Communities:
STONEWALL V.A. supports Hakeem!
PRIDE Democrats endorses Jeffries!
Note: All of the other Gay groups seemingly want greater discrimination.
deeper corruption, expanded exclusion, worse incompetencies and more insults!
---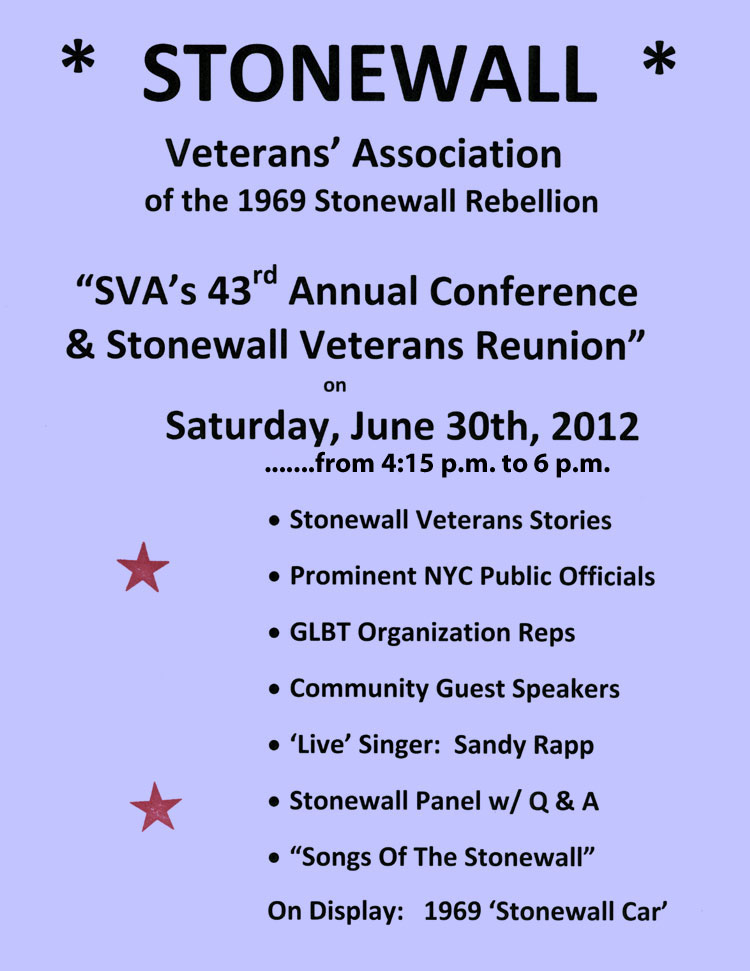 4 June
2018
*
2015
12 November (Thu.)
Tribute to Congressman Hakeem S. Jeffries
at The Harvard Club New York
featuring NYS Governor Andrew M. Cuomo
Manhattan, NYC
*
2015
3 February (Tue.)
Diana Ross Concert commemorating Reopening Kings Theatre
1027 Flatbush Avenue, Brooklyn, NY
*
2015
29 January (Thu.)
"State of the 8th Congressional District Address"
Brooklyn, NY
*
2014
29 September (Tue.)
Cong. HSJ meeting with S.V.A.
Archives Restaurant
Brooklyn, NYC
*
December (Sat.)
2011
Congresswoman Yvette Clarke's Holiday Party
Brooklyn, NYC
*
9 November (Wed.)
2011
Democratic Leadership - 21st Century
Belmont Lounge
Manhattan, New York City
*
26 November (Sat.)
2011
S.V.A. Executive Committee Meeting
GLBT Community Center
Greenwich Village, NYC
*
3 December (Sat.)
2011
Congresswoman Yvette Clarke's Birthday Gala
Kai Studio Hall (with 50' ceilings)
Crown Heights, Brooklyn, NYC
*
15 January (Sun.)
2012
Hakeem Jeffries' Announcement
Steps of Brooklyn Borough Hall
Downtown Brooklyn, N.Y.

*

26 June (Tue.)
2012
Hakeem wins Democratic Primary for Congress!